The teacher who set my life on its current course — John "J.G." Carlton, aka Uncle Dudley — died this week.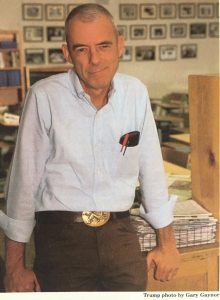 Mr. Carlton was my first mentor as a writer – the man who taught me that journalism is about the truth, and that words could be a pathway to a life that mattered. I remember our daily challenge: the New York Times crossword puzzle, completed (always) in ink. Years later, as I was working on my Masters in journalism at NYU, I'd think of Uncle Dudley as I raced to complete the Times crossword on my Metro North commuter train. Monday through Thursday I could always finish before reaching the city from Mamaroneck. Fridays were harder, but most days I won the race. I'd give silent thanks to Uncle Dudley and the enormous dictionary that had pride of place on a lectern at the front of his classroom.
Seeing this photo among the many tributes written by talented writers and journalists takes me back to the early '80s, to setting type manually, to headlines based as much on what would fit the column as on what would draw the readers. It's because of Mr. Carlton that I ended up with a career I love; though I'm no longer a journalist, Mr. Carlton's lessons still permeate everything I do, from my novels to my day job. Writing that seeks to change hearts and minds and, hopefully, make a difference to people and places around the globe.
Thank you, Mr. Carlton, for showing me the power of prose. I'll miss you more than I have words to say.